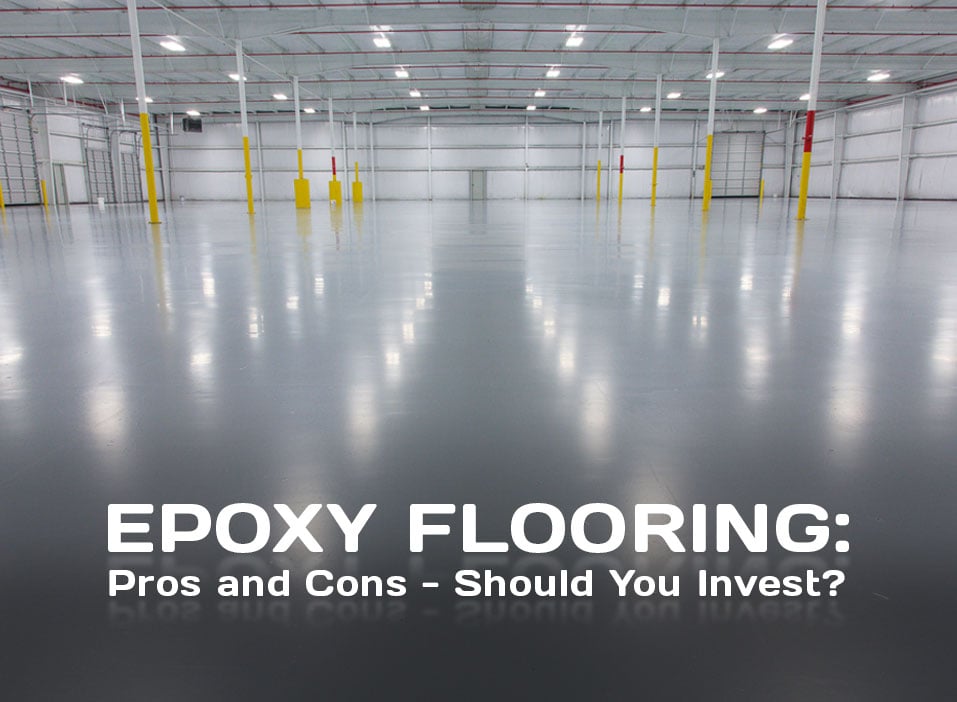 When it comes to choosing the best type of flooring for your plant, there are a lot of options to consider. One of the most common types of floorings you can find in a plant is an epoxy flooring. But, how good of a choice is epoxy, and is it really worth the investment? Before you decide, here is a list of some of the pros and cons of going with epoxy flooring.
The Pros
1. Shock Resistance
One benefit of going with epoxy flooring is it has a durable finish that is shock resistant. This means that it is made to handle impacts of different levels, from having heavy objects dropped on it to having heavy machinery moved across it, an epoxy flooring can handle it all. This is why it is such an excellent option for industrial situations, like warehouses, factories, and plants.
2. Fire and Water Resistance
Epoxy flooring is also good for industrial plants because of its resistance to fire and water. While not entirely resistant to fire, this flooring can stand up to 200 degrees of heat, which can help ensure that the building has a better chance at surviving a blaze. Additionally, epoxy flooring is also water resistant and able to withstand exposure to any strong chemicals that may come into contact with it within the plant.
3. Affordability
When it comes to the cost of different flooring options, epoxy flooring offers the most affordable option. This is because it can easily be installed directly over a concrete slab. With epoxy flooring, you can save a lot of money without having to sacrifice the durability and strength of other options.
4. Longevity
Another benefit of going with epoxy flooring is the longevity that it offers. When installed and maintained correctly, an epoxy flooring can last for several decades without any peeling, cracking, or replacement. That adds to the affordability factor, as you will spend less on the upkeep of the flooring itself.
5. Cleanliness
Epoxy flooring is great in facilities that require constant drainage solutions. When paired with a slot drain systems, epoxy floors are easy to keep sanitary and clean. Keeping your floors clear and clean of liquids will be instrumental in following safely compliance codes, as well as insuring the safety of those walking through.
The Cons
1. Requires Preparation
While an epoxy flooring is installed directly over a concrete slab, that does not mean there aren't specific steps that must be taken to prepare the floor. To correctly install an epoxy flooring, the surface of the concrete needs to be cleaned thoroughly, as it will not adhere to a dirty surface. This can require unique cleaning products to be really sure a surface is well-prepared for epoxy installation, which are sometimes expensive to purchase.
2. Needs to Be Maintained
Photo by: http://mscoatings.com
If its strength and durability are put to the test, and something beyond its limits falls on it, cracks can begin to form. If these cracks are not taken care of quickly, they can spread, which can end up forcing you to tear up the floor and replace it entirely. When these flaws are properly addressed, you'll get more life out of your floors.
3. Slippery Surface
While not the case for all epoxy flooring, there is a higher potential for it to be a slippery surface. Because of this, it is important to consider where it is getting applied. Areas exposed to liquid substances should consider other options as well, as an epoxy flooring has a potential to create dangerous, slippery situations. As mentioned above, this drawback can be resolved with the proper drainage solution to keep floors clean and clear.
4. Difficult to Remove
Occasionally, you may want to update the look of your flooring. This can be somewhat difficult with epoxy flooring because you have to remove the epoxy before replacing with something. This is mainly due to the special coating the flooring has, which makes removal an expensive and labor-intensive process.
Making the Best Flooring Choice
These are just a few of the major pros and cons to keep in mind when it comes to epoxy flooring. Epoxy flooring is an incredibly popular option, especially for industrial settings. As you consider your different flooring options, keep your needs in mind so that you can make the best choice possible. That way, you will not come to regret whatever flooring you choose.