There are countless types of drainage systems, each one offering different features and benefits. Trench drains are the most common system, with various types of trench drains available. The old type of trench drain is a big, bulky system that stands out like a sore thumb. It was for an unattractive part of landscaping that designers tried desperately to hide. Fortunately, now there are low profile drains, that are the perfect addition to any landscape design.
What is a Low Profile Drain System?
A low profile trench drain is essentially the same as a regular trench drain system, with a few major differences. For one, there is no lip on the drain. In other words, a low profile drain blends seamlessly with the rest of the floor. Another significant difference between low profile trench drain and other trench drains is the channel opening. Regular trench drains have wider openings that require a grate cover, but a low profile drain has a slimmer opening that doesn't require a grate. This may seem like a simple difference, but it has a significant impact on the look of the drain, and cost and safety as well, since grates tend to be fragile.
Low profile drains are also often concerned with the depth that the jobsite offers, which, in the case of these drains, is a shallow profile. The profile may be shallow for any number of reasons: a shallow slab of concrete, mechanical equipment, and even plumbing obstructions.
Benefits of Low Profile Drains


1. Aesthetically Pleasing
One major benefit of low profile drains is how aesthetically pleasing they are. Unlike the traditional style of trench drain, low profile drains are sleek, modern systems. They feature slim openings that are completely level with the ground, making them barely noticeable in appearance. The opening is so slim in some cases, low profile drains don't require a grate covering, which adds to the clean, simple aesthetic. If a grate is necessary, it will be smaller and less obtrusive than what you'd find in other drain systems.
2. Safer
The fact that a low profile drain has no raised edges or grate also makes it a much safer drainage system. Low profile drains are ADA compliant, making them ideal for public spaces. Systems with grates are designed to maintain their flush appearance to ensure that nothing sticks out and creates a safety issue.
3. Less Maintenance
Another benefit of low profile drains is that they require less maintenance than other drain systems. Some systems don't require a grate cover, but even for the low profile drains that do have grates, they are smaller and more easy to manage. Simply use a brush and paddle to help clean the system and to scrub any grates. Slot Drain also offers the option of self-flushing and cleaning systems, which makes maintaining these drains even easier.
Low Profile Drainage Design Ideas


1. Along Fountain-Lined Paths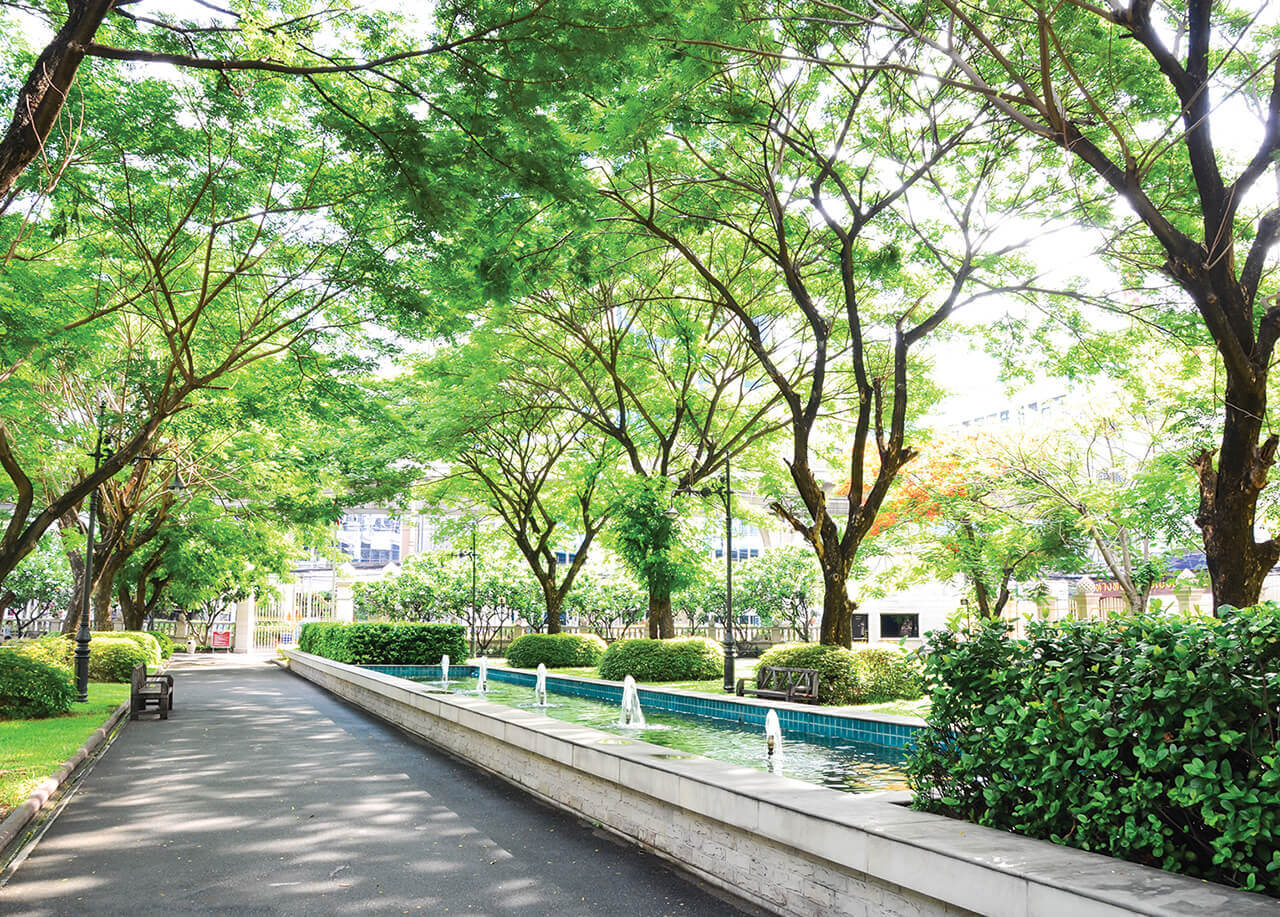 Fountain-lined paths use a lot of water, and, when out in the open, they can get even more water from rain and snow. It is essential to keep these areas as clean and dry as possible, not just for aesthetics, but safety as well. You can install a slim, low profile drain along the edges of the path to help catch any water runoff from bad weather, overflowing fountains, watering the grass, or just workers cleaning the park area. Choosing a slim design creates a subtle drainage solution that the public will not notice, and it will not take away from the beauty of the scene.
2. Backyard Drainage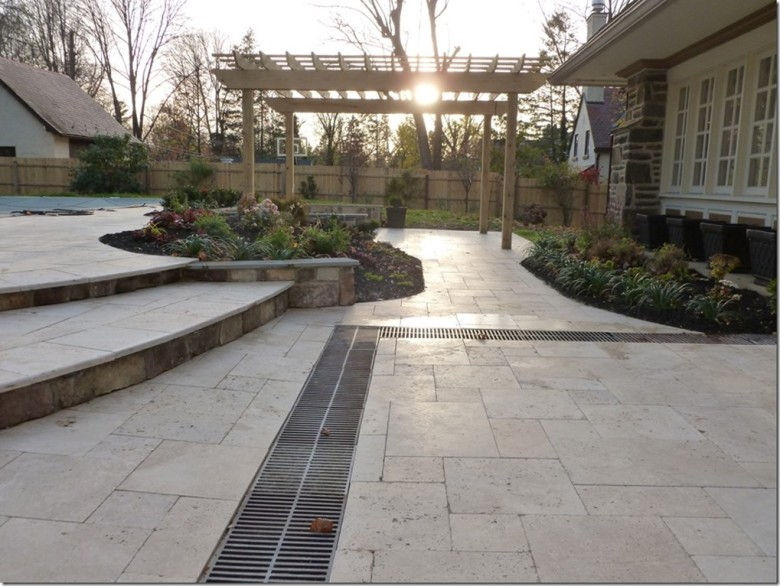 Backyards need drainage too. During weather like rain and snow, the water runoff needs somewhere to go. A drain system can help keep it away from the surface, preventing damage to your home and property. It also makes it easier to clean your patio and water your plants, and you won't have to worry about standing water.
3. Around a Hot Tub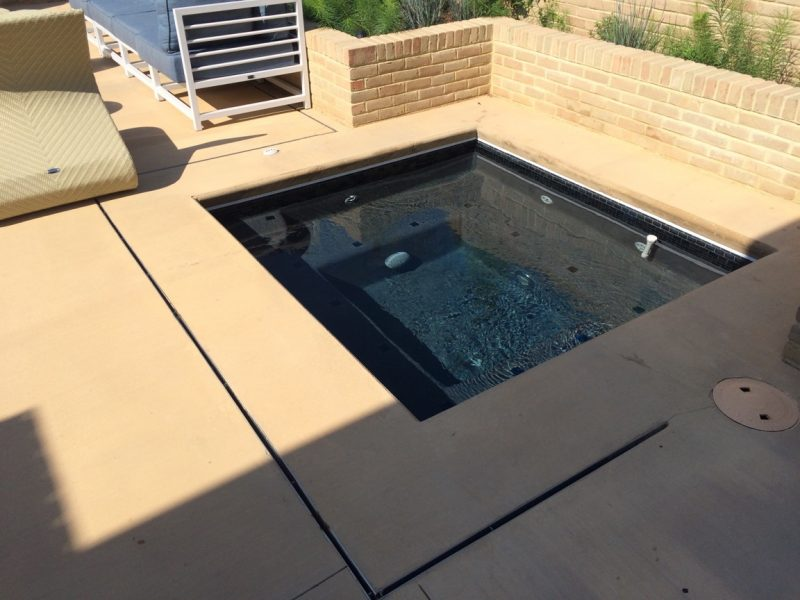 Hot tubs and pools use a lot of water. It's important to have drainage that can handle things if it overflows, or when water is splashed over the edges. This can be a slim drain so that it is more discrete and won't be as noticeable among the rest of your landscaping.
4. Public Park Landscaping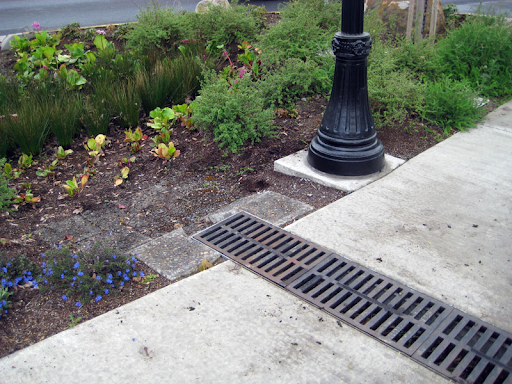 Parks are public places, and water runoff can cause all sorts of issues. Having small, grated systems on the sidewalks can help give water a way to drain so that the ground can dry more quickly. Instead of going diagonal with the design, it can be horizontal, to better catch the water runoff.
5. Utilize it In Commercial Centers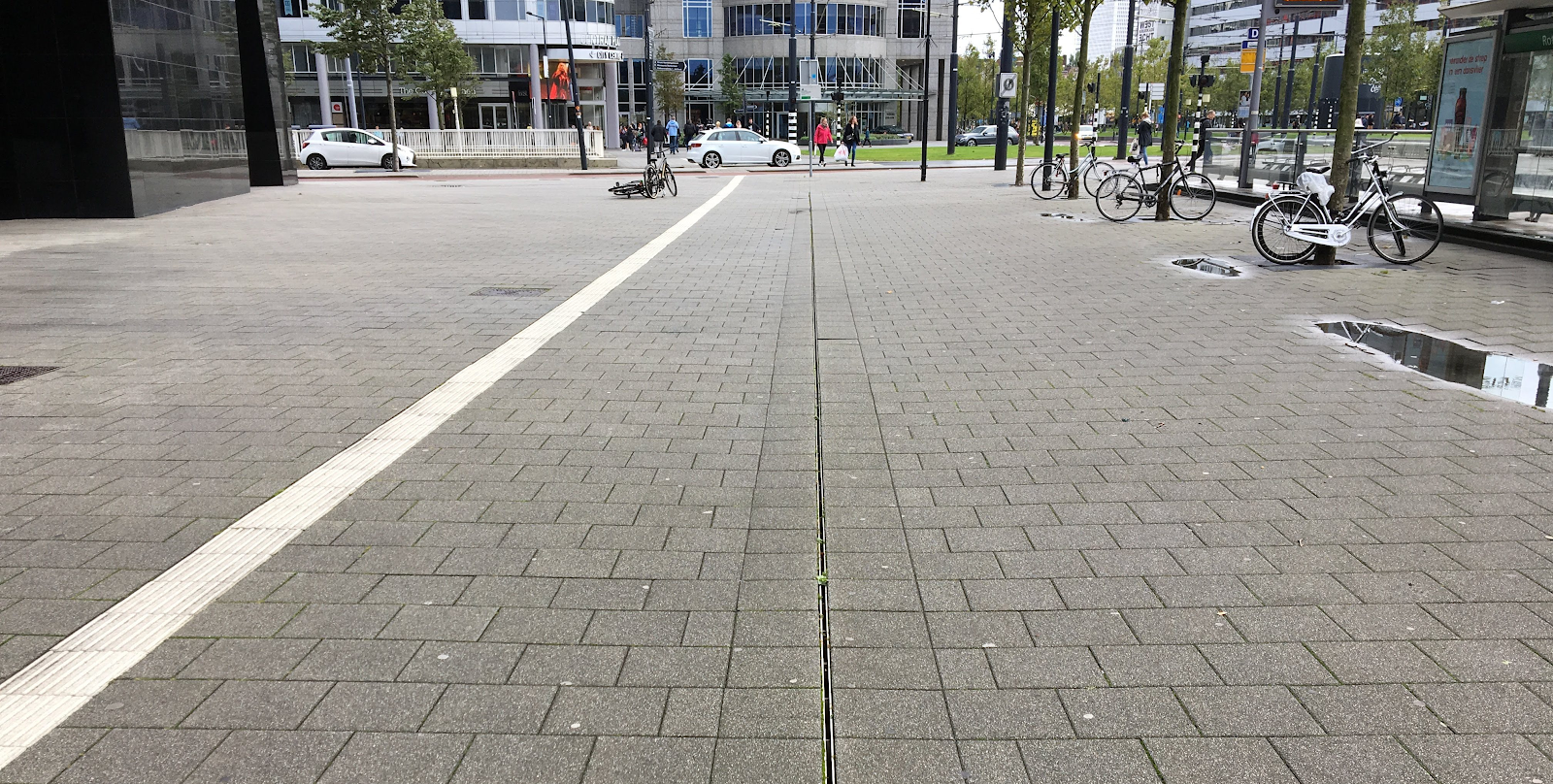 Another great use for slim, grateless low profile drains is in commercial centers. A linear drain can blend in easily with stone pavers, to create a discrete solution that customers will not notice, but will still effectively do the job. Having a centralized drain system can help keep the ground dry and free from water or waste debris.
6. Along Your Patio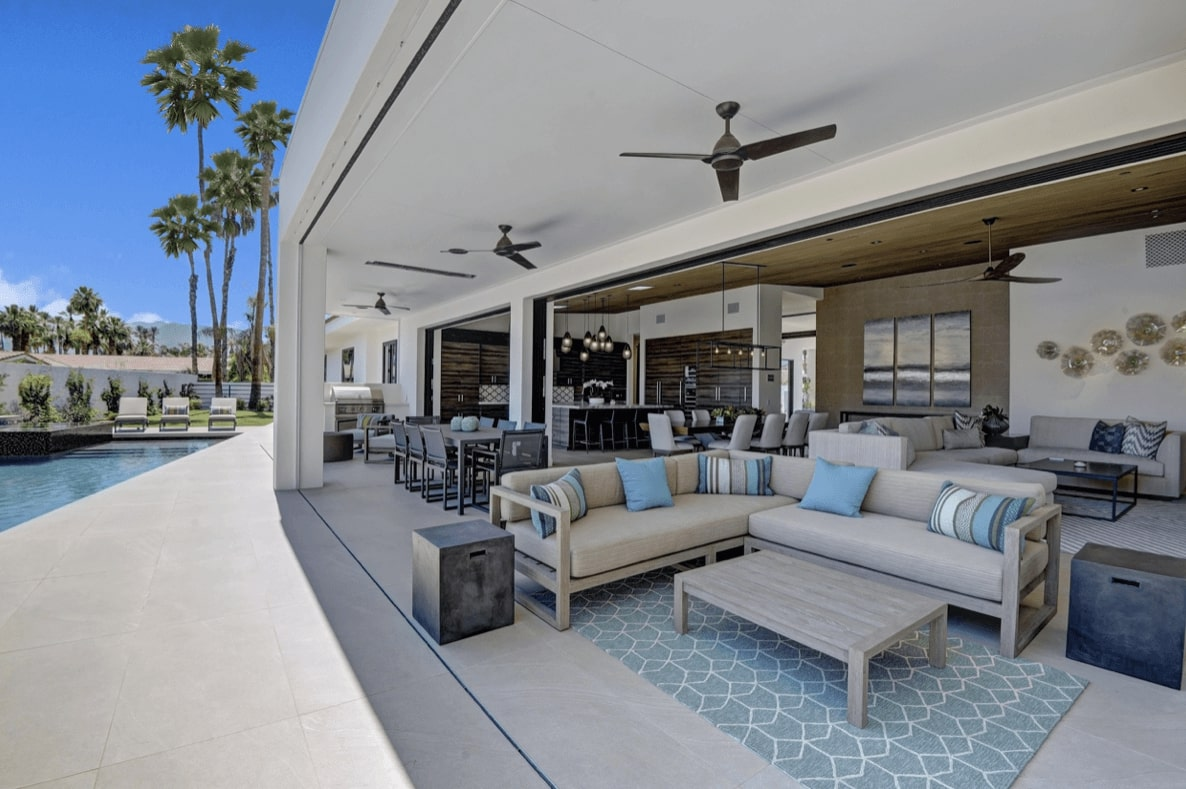 If you have a pool, the drain doesn't have to be directly by the pool. When you have a big backyard, you want to choose the right location for optimum drainage. Having the drain closer to your patio can help ensure that your actual living area remains dry and protected from water damage.
7. Install it with Tiled Floors

Not all commercial centers use stone pavers. A low profile drain can also be useful for tiled commercial areas, where it can easily take the place of a grout line in a subtle, discrete way. Drainage on tiled surfaces is even more important since they tend to become more slippery when wet.
8. In Front of Your Garage Door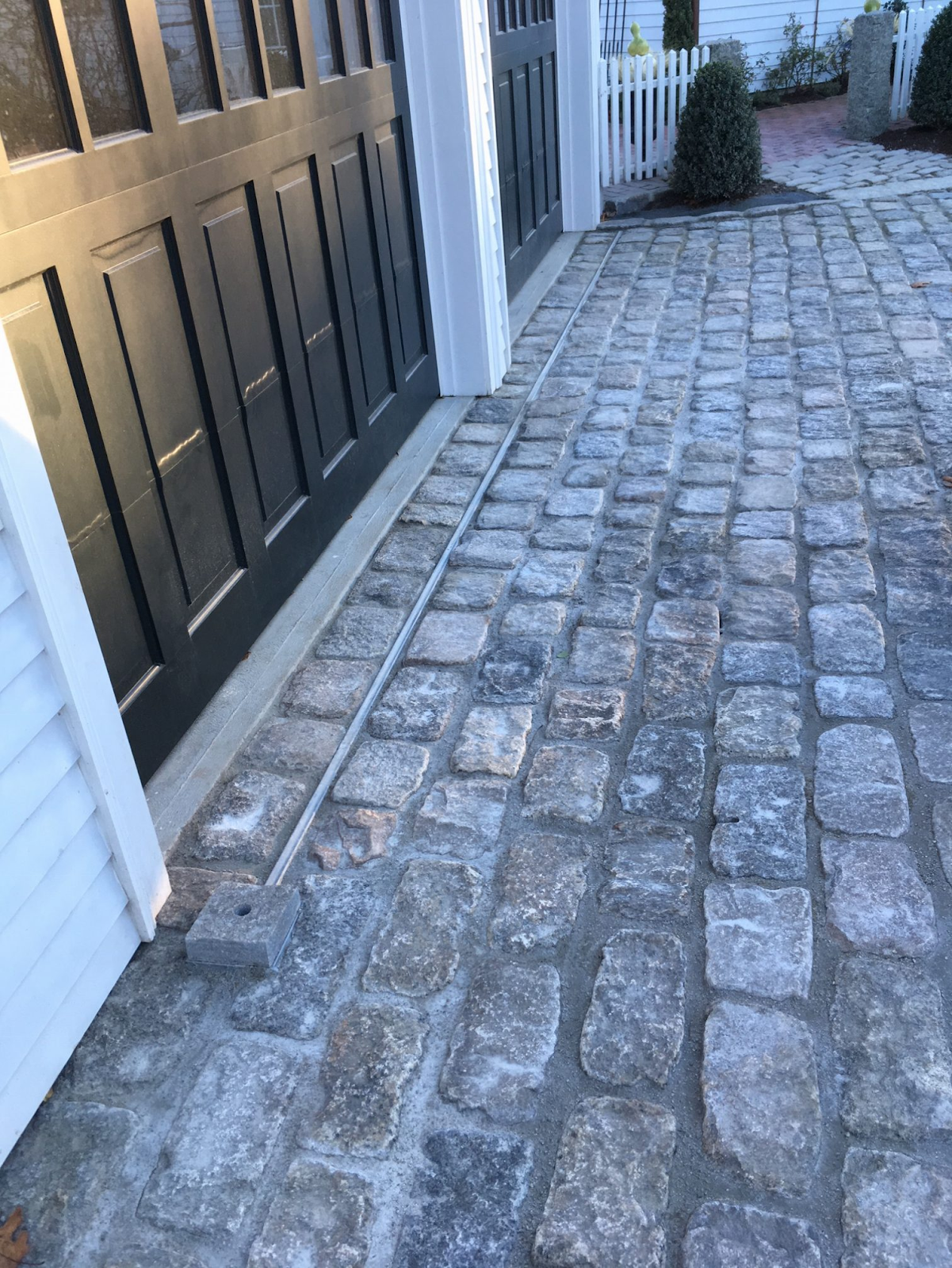 The area around your home needs efficient drainage to ensure that your home is safe and protected from water damage. Having a linear, low profile drain by the entrance to your garage will prevent excess water from getting inside. If you have a paved driveway, the drain will not even be noticeable among the pavers, and it will do the job efficiently.
Slot Drain Low Profile Trench Drains
While many companies offer low profile drains, you want to choose the best. Slot Drain's drainage systems are low profile drains that are discrete, ADA compliant, and highly effective. They come in a highly durable, bacteria, and corrosion-resistant stainless steel design. These drains come pre-sloped and pre-assembled and are easy to install and maintain. Another benefit of Slot Drain is the strength of the system–their 9000 and 10,000 Series can withstand up to 10,000 pounds of weight without breaking or bending.
Drainage is essential for virtually any place you can imagine. For landscaping situations, drainage is particularly important–without it, a landscape design can suffer all types of damage. Your drainage solution doesn't have to be big and bulky. Low profile drains are sleek, discrete drainage solutions that are highly effective without being unattractive. Slot Drain's low profile options, in particular, have a lot to offer from the sleek, linear appearance to the ease of installation and maintenance.
They are incredibly durable, so you don't have to worry about them breaking or warping from too much weight. With low profile drains, you don't have to worry about having a drainage system that takes away from the beauty of your landscaping.