The innovative design of a Slot Drain® dramatically decreases cleaning time and maintenance costs. However, many industries have requirements for strong durability with high load class for heavy vehicle/forklift traffic. Our engineering team delivered all that this year with our 9000 Series drains. It is the first slotted trench drain to achieve CSA certification for its durability. We've taken a closer look at what this means for the future of drainage systems.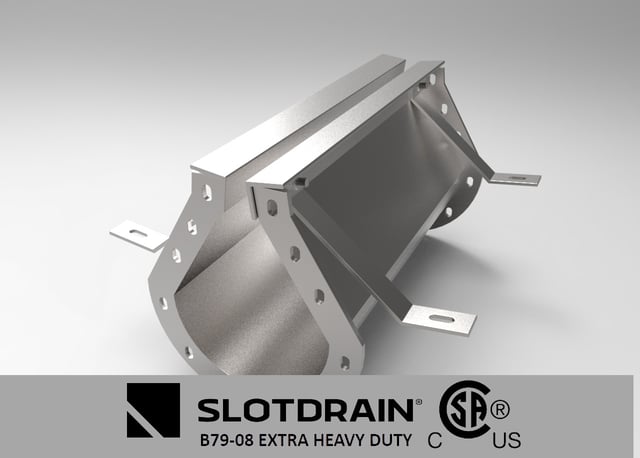 Class loads for every industry
The drain industry typically uses two rating systems.
The first is the ASME A112.21.1M, which separates loads into five categories: light, medium, heavy, extra heavy, and special duty. The highest rating, special duty, requires all grates to have safe live loads over 10,000 pounds. This rating is safe for the heaviest loads, including airport traffic.
The other rating system, DIN 19580, separates loads into six categories, rated A-F. This rating system measures the weight of each load per square foot. The heaviest rating, or Load Class F, requires a drain that withstands 202,320 pounds per square foot, safely withstanding airport traffic.
Is Slot Drain® better for heavy use?
Although grated drains were a standard requirement for the heaviest uses in the past, the Slot Drain® 9000 Series creates options for even the heaviest load requirements. But is it really better than a grated drain for the heaviest uses? We analyzed cost, lasting quality, and contamination risk to determine which system is best for special duty.
Cost - The costs of traditional grated drain systems increase dramatically for grates that can handle heavy loads. Slot Drain 9000 series extra duty design does not add cost for the certified durability. Smart leaders account for maintenance costs when they determine which option is best for their business. This article

explores the cost

of maintaining both grated drains and slot drains, to help you determine which option is best for you.
Lasting quality - Because of the above-mentioned costs, a less durable grated drain is often mistakenly installed. It may even work well at first, but industries with requirements above Load Class D or Extra Heavy Duty lead to wear and tear on a traditional grate. Heavy loads weaken the grate over time, eventually leading to replacing the grates or worse the whole system.
In contrast, our engineers designed Slot Drain

®

to prevent weaknesses due to heavy use. The linear design completely eliminates grates, allowing heavier traffic. In addition, the one-piece slot drain prevents wear with its sleek design and sloped interior.
Bacteria / Sanitation / Smell - Regular cleaning is essential for both grated and slot drains. However, a grated system easily traps bacteria. Even with regular cleaning, a grated system has a greater contamination risk.
A Slot Drain

®

system prevents contamination by reducing the surface area that comes in contact with contaminates. In addition, it is markedly easier to clean. Fast cleaning time and a lower contamination risk make this a wonderful option for any industry.
Are there any other slotted trench drains that are load rated?
Only one received CSA certification: the Slot Drain 9000 Series. But that doesn't mean you don't have options. Choose the materials, slot width, and accessories that fit your industry.
Materials - Choose from T304 stainless steel, T316 stainless steel, and galvanized steel. Our experts will happily help you understand each type of material to determine which is best for your system.
Drain size - Select a slot drain to fit your specifications. ADA-compliant industries benefit from the smallest (1/2") drain. For faster draining, choose a 1" or 1.25" slot. Wider slots have a higher flow rate and accommodate more liquid volume at one time.
Accessories - If you've decided the slot drain 9000 series is right for your company, accessories customize it to your needs. Worried about items accidentally going down the drain? A catch basin captures items for easy retrieval. Make cleaning your drain easy with our cleaning paddle, designed to work perfectly with your slot drain. Add a flush flow option to automatically flush the drain with water or set a timer to clean it automatically. This option is great for industries that require frequent cleaning.
Stop replacing your old grates as they wear out, and move on to the latest innovation for special duty and load class F drainage systems. With the highest CSA rating for heavy loads, the Slot Drain 9000 Series maintains its high quality for years, lowers maintenance costs, and decreases contamination risk. Get high-quality results every time with this durable and reliable drainage system.