Water parks are fun, but keeping them safe and well-maintained is crucial.
Few summer activities are more thrilling than a water park, which offers the whole family something to enjoy. Whether you enjoy splash zones or water rides, water parks offer endless fun and plenty of water to keep cool.
With all that water comes the need for a system to maintain it, ensuring the water is clean and the park remains safe and sanitary. To do this, water park owners need to invest in a high-quality drainage system for water management.
The Importance of Drainage at Water Parks
Water parks use a great deal of water—an estimated average of 19,800 gallons a month to keep a single water park running. All of that water runoff needs a place to go away from main walkways and surfaces; otherwise, it can create serious health and safety concerns.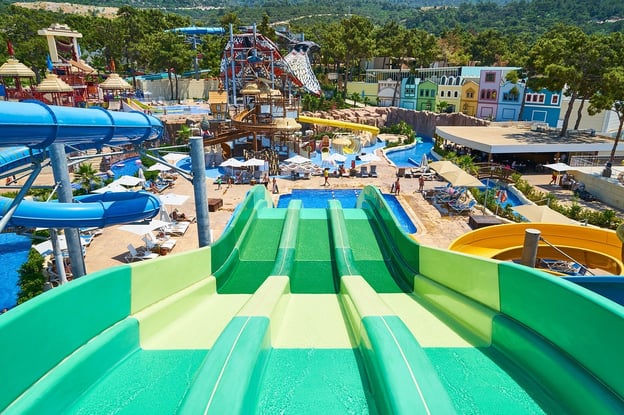 Standing water creates puddles that can lead to mold and mildew and other bacteria and fungus growth. They create an unsafe environment, especially for people who may go barefoot in areas around pools or changing rooms. Puddles also create a slippery surface, making it easier for people to fall and injure themselves.
A drainage system helps to control the groundwater and water runoff within the water park. Instead of remaining on the surface, where it can become a hazard, a drain takes this water into the channel, where it can be disposed of, sanitized, or recycled.
Choosing a System
With the amount of water used in water parks, there is no denying the need for reliable water park drainage systems. Water parks, however, have a unique set of needs when it comes to drain systems.
Naturally, the most important feature for these parks is a system capable of handling large volumes of water. Without being able to handle a large capacity, the system can quickly become overwhelmed and flooded.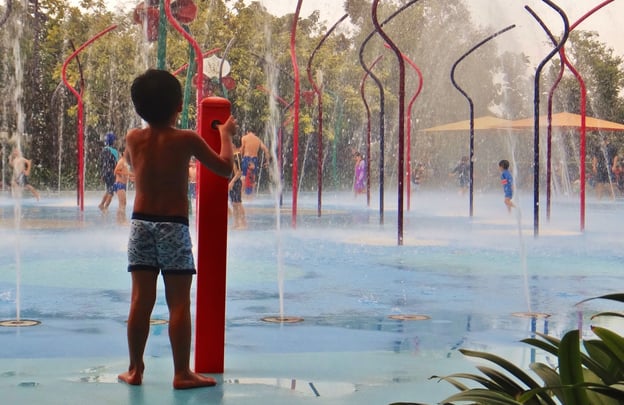 The design of water park drainage should also take safety into account. Many of the traditional trench drain systems require bulky grate covers that aren't always completely flush to the ground.
For water parks, this is problematic because it can create tripping hazards. Grates also wear down over time, making them more fragile and prone to breaking, especially due to heavy traffic or vehicles passing over them.
A broken grate can lead to something more severe than a tripping injury, which can cause a lot of trouble for the water park owners and managers. Workers can also get injured trying to lift grates in order to clean them due to the excess weight.
Maintenance is another concern. Water parks require a lot of upkeep; a drainage system should not add an excessive amount of work to the maintenance routines.
While appearances aren't critical, water parks naturally will want an aesthetically pleasing system, one that blends in with the surrounding ground while doing the job efficiently.
How Slot Drain Fits those Needs
Of the different drainage systems on the market, the Slot Drain offers the most advantages for water park drainage systems. The 10,000 Series Slot Drain system is the most durable and is superior for many reasons.
Design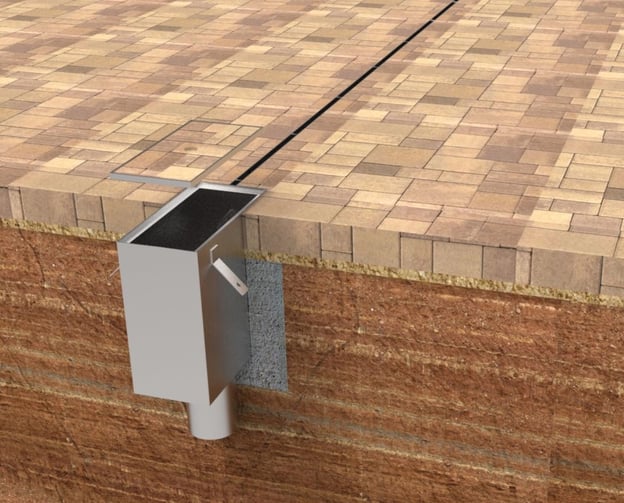 Slot Drain is a trench drain system with a very different design. Unlike many traditional systems, Slot Drain features a modern, linear design, and it comes pre-sloped.
Traditional systems also typically feature a grate cover, which is big, bulky, and unattractive. Slot Drain's slim design eliminates the need for grates and esnures that the system is safe for people to walk on, while also preventing objects from falling in.
Capacity
Slot Drain systems offer three different slot sizes: an ADA-compliant 0.5-inch slot that can handle 11 gallons per minute per foot (GPM) of drain, a 1-inch slot that handles 18 GPM, and a 1.25-inch model that can handle 27 GPM. Different areas of the water park may call for different flow rates; water park owners and managers can choose the necessary sizes accordingly to ensure the proper capacity, so the system is never overwhelmed.
Safety
Slot Drain's design eliminates grate covers, leaving a seamless drain channel that is completely flush with the ground. It creates a safer system that is less likely to result in injuries. These systems, particularly the ADA-compliant models, are safer for people who use walking aids to pass over without getting stuck on the openings.
Sanitation
Slot Drain provides the added advantage of being constructed from stainless steel. It is a bacteria- and corrosion-resistant material that is easier to keep sanitized, making it safer for water parks, as it can handle the strong chemicals used in cleaning.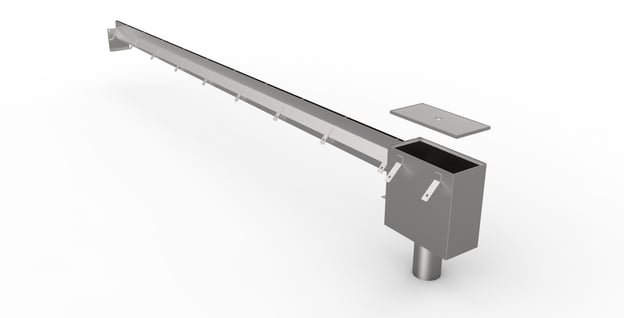 Maintenance
The absence of a grate and its stainless steel construction makes cleaning the Slot Drain system much easier to maintain. One cleaning method is using simple tools such as a brush and paddle for manual cleaning. Slot Drain Systems has also created the Flush-Flo attachment, which allows for manual or automatic flushing of the channel.
Keeping Water Parks Safe and Sanitary
Water parks are fun, but keeping them safe and well-maintained is crucial. Of all the different aspects of a water park, one of the most important parts is the water park drainage systems. The 10,000 Series model from Slot Drain is a high-quality drainage option that provides everything that an efficient water park drainage system needs.
From durability to safety features, our system will serve water parks well, wrapped in a sleek, attractive design. Contact us today for more information on a specialized water park drainage system.